Here are a few technical articles that have been published in magazines.

Click on the story title to view


Street Rodder Web:
Setting Up The Traditional Hot Rod Frontend
This article discusses how to set up the front end of your street rod.


Street Rodder February 2009:
Converting to Quarter Elliptics
Here is an article written by Street Rodder showing the installation of POSIES Quarter Elliptic spring kit onto a Model A chassis.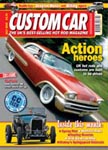 Custom Car Magazine July 2008:
1952 Ford F100 Front Dual Flex Installation
Custom Car Magazine from the UK wrote an article on the installation of POSIES front Dual Flex springs into a 1952 Ford truck.


Rod & Custom Online:
Match Maker for that Engine and Transmission
This article from 2004 showing the installation of a transmission in POSIES ThunderRoad with a ROUSH 402IR using one on Wilcap's transmission adapters.


Rod & Custom Online:
Rear Suspension And Chassis Tuning
This article talks about choosing the right rear suspension for your hot rod and making it work.


Street Rodder Web:
Hot Rod Springs Insight From POSIES
This article discusses how to choose the correct right spring for your street rod.