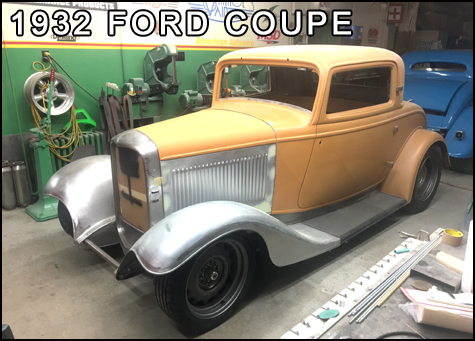 Fabricated side pant/skirts for the front fenders. Rolled factory bead into the edge.
Extended front of fender to cover frame horn with the bead and end flange wrapping underneath. Welded splash apron seam and blind mounted apron to frame rail.
Using Cowl Lights for turn signals using scaled versions of the headlight mounts.
POSIES Designed and Laser Cut headlight mounting arm being positioned on the grille shell. Headlight being mocked up and positioned between grille shell and fender.
Rear taillights will be using the same mount design as the headlights and front turn signals. We will be installing a red lens. Moved gas tank filler neck opening bead in frame horn cover to match position and radius of filler neck.
Welded seams on rear frame horn covers. Rear fenders were bobbed with the section that was removed being shown.
Roof filler panel installed. Seam was continuously welded and metal finished. Custom made 17" artillery wheels from Wheel Vintiques.