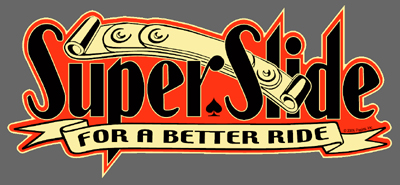 WHEN THINKING ABOUT TRADITIONAL OR NOSTALGIA PARTS, YOU KNOW THAT '58 BUICK FINNED BRAKE DRUMS ARE IT AND TRICK. YOU KNOW '53 MERCURY FLAT MOTORS ARE IT AND TRICK. WHY NOT THINK ABOUT POSIES SUPER SLIDE SPRINGS WHICH ARE IT AND TRICK. KEEP IN MIND WHEN PEOPLE SAY THAT POSIES SUPER SLIDE SPRINGS LOOK TOO NEW, YOU CAN SAY THAT FORD USED SUPER SLIDE TYPE SPRINGS IN ALL SHOEBOX FORDS SINCE 1949, JUST A TAD OLDER AND A BIT MORE NOSTALGIA.
POSIES Super Slide Springs feature a domed pocket at the end of each spring leaf which houses a moly-nylon button. The buttons reduce friction between the springs leaves resulting in a smooth comfortable ride. We also offer Rolled and Tapered front springs which have hidden Super Slide buttons that gives you the total nostalgia look while providing a great ride.
In addition to our Super Slide Springs, we also carry a full line of parts and accessories to complete your hot rod project. Our website is just a sampling of our vast inventory – E-mail us for a complete catalog.
Click on link below to see our catalog online.

Online Catalog
Super Slide Springs Video From 2008 NSRA Nationals
Courtesy Hubgarage.com
A Quick Look At POSIES SuperSlide Springs©
Click here to view On-Line Catalog